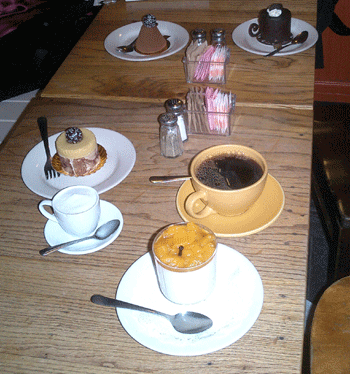 Among the many coffee shops along Bedford Ave, Fabiane's is the hands-down winner when it comes to desserts. Flavored mousses abound, but the champion dish is the chocolate caramel cup, a combination of 6 different consistencies of chocolate, a caramel center, and a dollop of frosting, all shaped into an edible mug of chocolate. The picture above is from my first trip to Fabiane's a year or two back, when a bunch of us stopped by after dinner for a sampler of their desserts.
Sandwiches, salads, and specialty drinks — and of course coffee — are also offered. I've seen a large number of people enjoying the weekend brunch here, but haven't yet tried that out myself.
Update 8/22/2005: Recently, Fabiane's has added mandatory table service (meaning tips and waitstaff rather than just picking from a display case), which may be making them a bit more money and allowing them to deal with larger numbers of customers, but is irritating when all you want to do is sit down with a coffee and a dessert. The prices have also risen a few times since this post was first made; the chocolate caramel cup is now $4.50.