Inspired by the most recent Is My Blog Burning?, but too hungry and rushed to actually create something with a spreadable base, I threw together the following, which I will not call tartines in respect for actual tartines.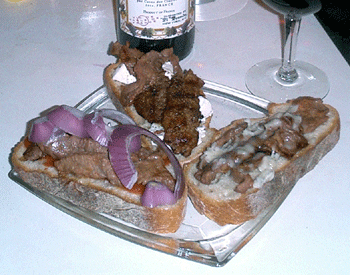 Steak rub:
a few shakes salt
olive oil
3 squirts chinese mystery hot sauce
(sandwiches clockwise from left)
#1
1 slice tuscan bread
1 tsp peach salsa
4 pieces steak
1 slice red onion
#2
1 thin slice tuscan bread
1 baby mozzarella, sliced
1/4 tsp olive oil
4 pieces steak
cracked black pepper
#3
1 slice tuscan bread
4 pieces steak
1/2″ block of cheddar, shredded
Notes:
The meat was too tough & dry (overcooked and a little bit too old).
I really disliked the sweetness of the peach salsa at first, and thought it didn't work well with the steak, but then the taste very quickly grew on me.
Black pepper by itself would have been better than the hot sauce.
The simplest one (cheddar & steak, #1) was the clear best of the three, although it was still too dry.
The surprisingly acceptable $4 bottle of wine from the bulletproof liquor store next to work in Chinatown helped a lot.